Going with the baby
Do you remember when I developed my
shirring addiction
last summer after I first discovered that you could put elastic in a bobbin case? Well, this summer something has come into my life that I feel may also spark obsession of similar proportions. A few weeks ago, Accuquilt contacted me to ask if I'd like for them to send me one of their machines, the Go! Baby, to play with. I'd been coveting one of these babies for a while, so was delighted (in a very dignified, not jumping up and down on the bed with glee at all kind of way...which leads me to question if Tom Cruise wasn't thinking of the Go! Baby when he leapt onto Oprah's sofa? Tom, do you sew? Katie Holmes looks nothing like this machine, but perhaps he's just easily confused).
The Go! Baby seems to be appearing all over blogland at the moment, but just in case you have somehow missed how this shape cutting machine works, here is the low-down: Accuquilt have made 'dies' (that's a cutting template) for virtually every conceivable patchwork shape. If for example you ordered a triangle die, the die would probably have four triangle cutters in it. The die I'm showing below is a mixed die - with half-square triangles, a small square and a larger square. They've all been sized to work perfectly with one another, but if you only want to use one isolated shape, then you simply place a smaller piece of material on the die to cover just that form.
Cutting is achieved simply by turning the handle of the machine (no batteries or electricity) and the pressure of the fabric-loaded die being squeezed through the machine means that the cutters buried in the foam that pads out the die, cuts cleanly through the fabric, leaving you with multiple perfectly cut shapes. You can then load up to six layers of fabric onto the die - so that means it has the potential to cut, for example, 24 triangles...in less than 5 seconds!
Perhaps what excites me most about this though, is that it pre-cuts the dog's ears away for you - so those annoying little excess bits of material that can sometimes make things feel so much messier and more confusing aren't even part of the equation (you can see this on the triangles below, which have squared off corners). Even though I've known logically that certain shapes will leave me with 'dog's ears' that need cutting off, I've never quite been able to shake the feeling that they shouldn't be there and that they somehow represent my having not quite got things 'right', so to have these elements spirited away has left me feeling oddly assured...and proficient, even!
The star blocks at the top of this post use a mixture of the triangle pieces and the smallest square. Choosing the fabrics took about an hour, because I tend to be irritatingly slow and indecisive..but that's okay, because cutting the fabric with this fancy pants machine and then sewing together those lovely dog-earless shapes took just under half an hour in total! This amazes me in so many ways - firstly, I love that it means the most tedious aspect of quilt making is transformed from being mind-numbingly-boring-and-time-consuming to wondrous-but-over-in-minutes (wondrous because I'm not sure I'll ever stop being delighted by turning out those bulk-cut shapes). Secondly, my newly found confidence that came with the lack of dog's ears meant that my sewing became super-speedy. Thirdly, I now have so many ideas for quilts that previously would have seemed too labour-intensive and now seem within reach.
Before I tried the machine for myself, I did wonder how it could improve on cutting with a rotary cutter, which also allows for bulk cutting. But since it arrived last week, I've decided that it betters it in nearly every way. I've often found that if I try to cut too many layers with a rotary cutter that the pieces move around a little and what I'm left with are shapes that aren't quite as precision-cut as I want them to be to give perfectly aligned seams. I also think there's less fabric wastage this way and I'm less likely to cut my own fingers off too - which a great bonus. If you're also coveting one of these then I think this last point could be all the (possibly spurious) self-justification you need for purchasing one: it's a simple matter of health and safety really and thinking about how much you value your own fingers.
If you're interested, you can look into the costs of becoming an obsessive fabric cutter in proud possession of all ten fingers at the Accuquilt
shop
and you can also click on the following link to download a PDF containing
22 free quilt patterns
from Accuquilt (you can use these patterns with or without a Go! Baby...but I can almost guarantee that as you cut out your 99th triangle by hand it will only make you more tempted to buy one: be warned. They are expensive, but, I think, a deliciously good purchase).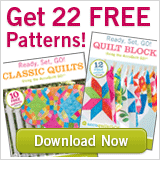 And do pop back tomorrow, when I'll hopefully have a tutorial ready to share.
Florence x